Allocating a digital marketing budget is no easy task: many factors are involved. For example, to name a few: consumer behaviour and digital engagement in different countries; how to spread the online investment across channels; how much competitor businesses are spending on marketing; etc. In this article, we present you with a few tips to decide how to manage your digital marketing budget this 2020.
Don't Let Geography Alone Dictate Your Spending
If you have customers in more than one country, you might feel tempted to invest more in those with larger populations. However, the size of the country alone should not determine how much a company spends in it. Take the below example, as expressed by Forrester Research:
"While a huge market such as China deserves marketers' attention because of its size, our analysis shows that the Chinese digital advertising market is becoming saturated."

Forrester Research
Instead of assuming that the bigger the country, the more money you need to invest there, base your marketing strategies on actual information and numbers. As Visual Capitalist has cleverly put it, "the effectiveness of your marketing budget is hugely dependent on the reliability of your initial assumptions."
To work with reliable assumptions, you should draw your conclusions from actual data. In other words, evaluate your campaign results from their performance in previous years:
In the digital world, it's extremely easy to test new ideas or campaigns through A/B testing and other simple means. Because of this, all ideas should be tested, adjusted, and re-tested at the micro-level on a real-time basis. Infrequent or inadequate testing can lead to missing out on ideas, techniques, and channels that could have proven useful or even essential.

Visual Capitalist
Digital Channels
Both Forrester Research and eMarketer have produced reports analysing companies' estimated allocation of marketing funds in 2019 and 2020. Here are some conclusions from those reports:
In 2020, most firms were expected to allocate 45% of their total marketing budget to digital marketing.
Search engine marketing will capture the largest share of online spend.
Online video will represent the highest growth category.
Investments in social media will keep growing, with a 17% compound annual growth rate from 2016 to 2021.
Mobile marketing has grown so rapidly that it's no longer tracked separately; it's presumed to be considered across all channels.
Paid search, display advertising, social media ads, online video, and email marketing will together make up for 46% of all advertising by 2021.
What Marketers Are Doing
Have you heard of the CMO Survey? For ten consecutive years, marketers from all over the world have been answering questions about their work. For instance, they estimate the changes in traditional and digital marketing budget they expect in the upcoming year. For most participants over the past years, such budgets have remained relatively consistent or increased compared to the previous year.
But, what are those budgets? Well, marketing spending generally hovers between 6.5% to 10% of the overall firm budget revenue.
For more information, you can download the full report here.
Useful Resources for Planning Your Budget
a) Digital Marketing Budget Calculator
Head over to Web Strategies Inc. to download their exclusive 2020 budget calculator.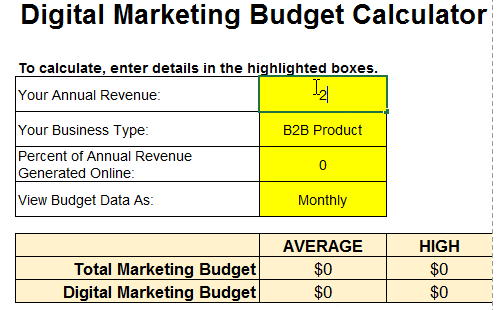 b) 8 Budget Templates To Manage Your Spend
Available for Microsoft Excel and Google Sheets, these templates will let you manage all of the moving pieces of your offline and digital marketing budget. Download the templates through this link.
Budget for Translation and Localisation Too!
If you offer your products or services in more than one country, setting money aside to invest in translation and localisation will boost your ROI. It's not just word-for-word translations that we are talking about: consumers' cultural values play an important role in the formulation of international marketing strategies (Fisher et al., 2010). These values may influence consumers' perception of a business. Therefore, if companies want to succeed in international markets, they need to take cultural differences into account. Otherwise, they risk triggering negative reactions in the target market.
Get in touch today to see how we can help you execute an efficient localisation strategy that will ensure your marketing efforts don't go wasted abroad.